Foundation Repair in Oklahoma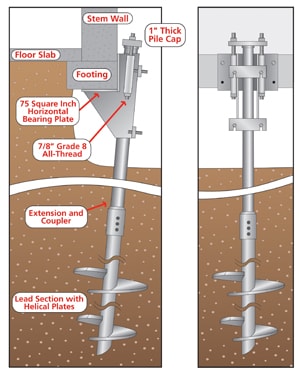 The weather in Oklahoma can affect the foundation of your home or business. The soil beneath your foundation can shift, move and create voids due to the ever changing moisture content, which can cause the foundation to shift as well. This shifting of the foundation will cause structural damage throughout the entire structure. Some of the signs that may indicate that you may be in need of foundation repair in Oklahoma are:
Sloping and uneven floors
Floor cracks
Wall cracks
Doors and windows that stick
Ceiling cracks
Leaning chimney
Brick and masonry problems
Beam and post problems
Bowing walls
If you see any of these signs of foundation failure in your home or business, the experts at Foundation Repair Services have the products and experience to get your foundation back to its original level and make it structurally sound again.
We use underpinning products such as steel push piers and helical piers to level your foundation. These piers are driven deep into the soil through the unstable soil layer until they reach a solid soil layer. After the piers reach the solid soil layer, the entire weight of the structure is lifted onto the piers using hydraulic jacks. The foundation will be back to its original level and structurally sound again. For bowing or leaning walls, Pierman Foundation Repair Services uses helical tiebacks to pull the walls back to their original level. They are installed through a small hole that is drilled through the wall, then with exterior excavation, the wall is pulled back to its original level. This will also give the wall strength so that it will not experience any future problems.
Basement Waterproofing in Oklahoma
Don't let a wet basement cause you to lose living space or ruin personal possessions in your Oklahoma home. A wet basement can also promote the growth of mold and mildew. Mold and mildew can cause several health issues for you can your family. Due to the severe storms that can hit Oklahoma, your home is vulnerable to water problems. It is important to have proper waterproofing for your Oklahoma home.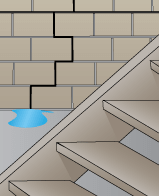 Pierman Foundation Repair Services offers several types of waterproofing, including:
Battery backup sump pumps
Crawlspace encapsulation
Interior waterproofing is done using a sealed drain tile which is installed next to the interior footing, below the concrete floor. This drain tile can be used with a wall vapor barrier. Exterior waterproofing stops water from collecting around your foundation, preventing it from entering the basement. A perforated pipe is installed along the exterior of the foundation and attached to a sump pump system which draws the water away from the foundation. Pierman Foundation Repair Services also offers crawlspace encapsulation. We use ECP vapor barriers to line the crawlspace to keep moisture out. Crawlspace encapsulation will keep your crawlspace free of moisture, odor, mold, mildew, insects and structure rot.
Concrete Leveling in Oklahoma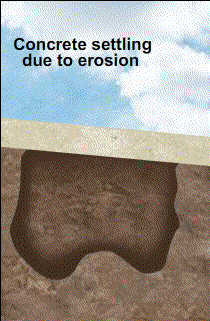 If you have concrete around your home that has cracked, heaved or is sinking, Pierman Foundation Repair Services offers the methods of polyjacking to get your concrete back to its original level. This method involves drilling small holes into the affected concrete. Then polyurethane foam is injected into the holes to fill all of the voids beneath the concrete. This will lift and level your concrete. This polyurethane foam expands to 40 times its original liquid form. Some of the most common areas that polyjacking is used for to repair concrete are:
Steps
Sidewalks
Patios
Porch
Steps
Driveways
Retaining walls
Pool slabs
If you are in need of foundation repair, basement waterproofing or concrete leveling, let the experts at Pierman Foundation Repair Services offer you the best solutions for your repair needs. Pierman Foundation Repair Services uses only the best products for Oklahoma's local experts in foundation repair and waterproofing. They are manufactured by Earth Contact Products (ECP), the leader in the industry today. We have the experience and use only the best products. We take pride in the outstanding reputation that we have established. Contact us today!