Stair & Stoop Problems (Cracks, Settling, Separation) in OK and Northwest AR
One very common problem for homeowners in Oklahoma and Arkansas is a settling or cracking porch or stoop. When the porch or stoop on your home begins to pull away or sink into the ground, it is probably an indication that the foundation is experiencing issues. Not only can this be dangerous to you and your family, but it may also significantly lower the value of your home. To keep your home safe and looking its best, invest in the premiere repair solutions from Foundation Repair Services.
In most cases, the stoop attached to your home will crack or separate from the home because the foundation beneath it begins to settle. This can happen for a variety of reasons:
Excess groundwater: Too much moisture in the soil will cause an increase in hydrostatic pressure, which pushes against the stairs, putting stress on them and causing them to crack or pull away from the home.
Erosion: When erosion washes away soil beneath the stoop or porch and creates voids or spaces, it may result in the structure settling unevenly into these voids from a lack of support.
Soil shrinkage: If extremely dry, drought-like conditions lead to soil shrinkage, the shifting soil can also lead to void formation and stoop settlement.
Poor soil compaction: If the soil beneath your stoop or stairs was not properly compacted at the time of construction, it will sink over time, taking the porch with it and causing settlement or cracking.
Vegetation: If there are trees or large shrubs planted near the stoop, the roots may grow underneath and push against the foundation, causing it to crack or pull away form the home.
All of these are signs that you may have a foundation problem under your porch or stoop. If this is the case in your home, it is time to invest in repair services to support the foundation under your stoop which will lift the foundation and close any cracks. The longer you wait to do this, the worse the issue will become. It is important to regularly look for the signs of a foundation problem with your stairs or stoop and have any issues repaired as soon as possible.
Sinking or Separating Stoop and Stairs Solutions for Oklahoma and NW Arkansas Including Muskogee, OK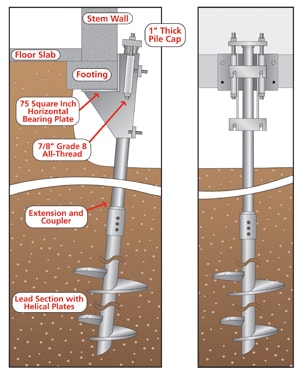 If your stoop or stairs is settling or pulling away form your home, it may be necessary to invest in underpinning services under your stoop or stairs. Underpinning is the installation of foundation piers to stabilize and lift the above structure. For porches and stoops, helical piers are the underpinning device of choice. These piers are screwed into the load bearing soil and used to support the weight of the stoop, taking pressure off of the foundation. Once the load is transferred onto the piers, it can be used to lift the foundation to the proper level.
Another solution may be polyjacking services. Polyjacking is a concrete leveling service that involves injecting a polyurethane foam material beneath the foundation to fill voids and lift the structure. This will help seal cracks and close gaps. If you live in Oklahoma or Arkansas and are in need of a solution for your settling or separating stoop or stairs, contact Foundation Repair Services today. We serve Muskogee, OK and the surrounding areas including NW Arkansas.