Helical Piers in Oklahoma and NW Arkansas
If you have noticed signs of foundation failure, the professionals at Foundation Repair Services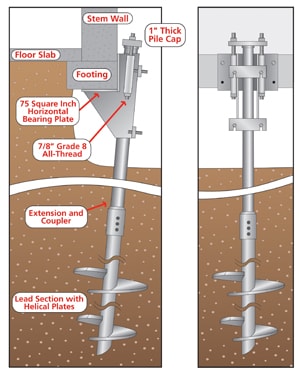 can help. If you have noticed cracks in walls, doors and windows that stick, chimney pulling away from the home, bowing walls or stair-step pattern cracks in the mortar joints, it is time to call Foundation Repair Services. These are all signs of foundation problems. We use helical piers to permanently stabilize your foundation and lift the structure back to a level position.
The helical piers used by Foundation Repair Services are made by Earth Contact Products (ECP), the leading manufacturer of foundation repair products made in the industry. These helical piers are screwed into the earth until they reach stable soil the load of a structure is transferred through the unsuitable soil to stronger, more suitable soil deeper in the earth. Once they are installed, the helical piers are load tested to prove their capacities.
Helical piers consist of a central shaft with one or more helix-shaped bearing plate and bracket attached. These plates and brackets allow that attachment to a structure.
Let the professionals from Foundation Repair Services inspect your home and if there is foundation failure, we will install helical piers to get your foundation stable and you won't have to worry about foundation failure again.
Benefits of Helical Piers in Oklahoma and NW Arkansas Including Muskogee, OK
Helical piers are ideal for applications where there is a need to resist a tension or compressive force or both. The advantages of using helical piers are:
East of installation
Little to no vibration
Immediate load transfer
Easily load tested to verify capacity
Installs below active soils
Can be installed in all weather condition
Little to no disturbance to jobsite
Foundation Repair Services will permanently fix your foundation using helical piers and your home will be protected from foundation failure. Don't hesitate to contact the experts at Foundation Repair Services for all of your foundation settlement needs in Oklahoma and Arkansas.