Water in Your Yard? Here's what to do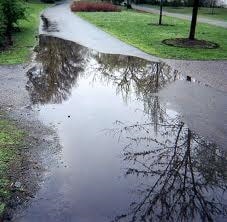 When it comes to having water in your yard it may not seem like a huge deal, especially because it is a very common problem. Storms will happen and they will leave rain water behind. If it is enough water, it will pool in your yard around your home. Eventually that water will seep down to your home's foundation which can lead to dangerous foundation failure. Water will find its way into your home's foundation through foundation cracks or because of poor drainage systems, or it may just seep through the porous, unprotected concrete, causing many different moisture problems. Keeping your foundation stabilized and intact through methods of foundation repair will help to prevent water damage in the future. Being a homeowner, it is wise to learn the signs of moisture damage such as:
High humidity
Musty odors
Wood rot or metal rust
Softened floorboards above crawl space
Mold and mildew growth
Water pooling or stains
Wet or damp insulation
These are all signs of a water damage problem in your home's foundation. If you notice these signs in your home it may be time to call us here at Pierman Foundation Repair Services. We are a team of experienced professionals who have the tools and knowledge to provide you with top quality waterproofing and foundation repair.
Waterproofing Solutions in Oklahoma
Your home needs to have working exterior and surface drainage systems to make sure that water does not build up around your home. Surface drainage systems consist of downspouts, gutters, grading around your home, dry wells, and a variety of underground drainage systems. These parts function together to remove any excess water from around your home's foundation.
While the drainage systems are extremely important to keeping water out of your home's foundation, the best way to protect your foundation is through a method known as crawl space encapsulation. This process includes covering the walls, floor, and ceiling of your crawl space with a waterproof material, usually plastic or foil sheeting. This material will resist the diffusion of water vapor through the pores of the concrete, sealing out all water.
We here at Pierman Foundation Repair Services have a variety of foundation repair and waterproofing services that will allow you to keep your home's foundation protected and safe from future foundation failure. Give us a call today, we are ready to help you with any foundation problem you may have.