Hydraulic lift slab piers are used for homes and commercial buildings built on concrete slabs.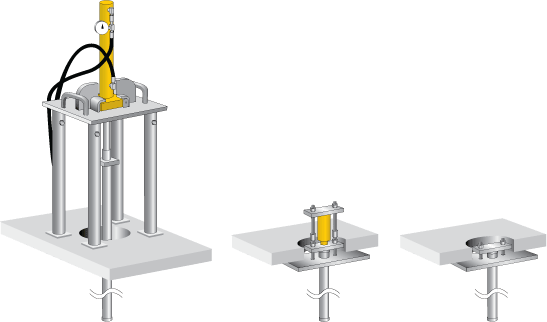 These steel slab piers use the weight of the slab and surrounding structure to resist the force of the pier that is driven to load bearing soil.
Pierman Foundation Repair Services installs slab piers to level concrete slabs. The slab piers, made by Earth Contact Products (ECP), are end-bearing piers that do not rely on skin friction to product support. The entire slab acts as the reaction force. These slab piers are installed using a grid pattern with spacing no greater than five toot apart. After all of the piers are installed, the slab load is transferred across the piers uniformly by activating the hydraulic rams simultaneously with a manifold lift system.
Concrete Leveling Solutions in Oklahoma Including Muskogee, OK
Slab piers are used anytime you have a slab of four or more inches in thickness to stabilize and lift the slab due to failing soil conditions that were too weak to support the slab. The installation is done inside the structure through an eight inch, core drilled access hole. The piers install quickly due to minimal setup time, making slab piers a low cost and time efficient solution.
Leveling concrete slabs used to involve mudjacking or helical piles. Earth Contact Products solved this by designing a slab pier system that provides a solution to the problem. This slab pier system uses the convenience of portable equipment. This design has saved contractors time and money.
If you have found that your concrete slab is in need of leveling, Pierman Foundation Repair Services has the solution for you using ECP hydraulic lift slab piers. Because they are quickly installed and can be installed with minimal setup time, this hydraulic lift slab pier system will cost less than other slab repair solutions.
Contact the professionals at Pierman Foundation Repair Services for any of your slab leveling needs. Our service area includes Checotah, Eufaula, Tahlequah, Tulsa, McAlester, Warner, Haskell, all in Oklahoma and an 80 mile radius of Muskogee. When you use the experts at Pierman Foundation Repair Services for your slab repair, you are getting experience and the best products available in the industry. Don't hesitate, contact us today!