Foundation Repair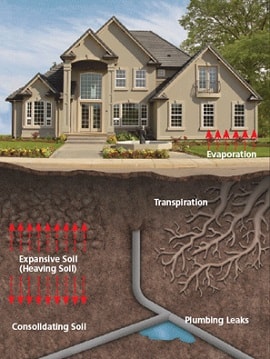 Are you looking for a foundation repair expert in Tulsa, Oklahoma? If you are experiencing structural problems with your foundation, give us a call today at 918-682-8259.
Foundation failure can occur in Tulsa homes due to:
Expansive soil that heaves against the foundation
Tree roots that push up against the foundation floor
Plumbing leaks that increase moisture in the soil, causing soil to shift
Consolidating soil that allows your foundation to sink into the ground
Evaporation of water creating dry soil that causes foundation cracks
Storm damage
Deterioration over time
Foundation settlement can be hard to detect in the early stages. Your foundation might look fine, but if you have noticed certain interior issues, your foundation may be trying to tell you something. Sloping floors, cracking walls, misaligned trim, and doors and windows that don't close all the way can all be signs that your Tulsa foundation is unstable.
A failed foundation will cause havoc on the entire structure on your home - which not only creates a dangerous living space, but significantly decreases the value of your property. Foundation Repair Services in Tulsa, Oklahoma has been successfully repairing and restoring foundations for many years. We have a highly trained and experienced crew that can determine the issues you are experiencing with your foundation and restore it back to it's original state. Our company has the most elite equipment on the market today to permanently stabilize your foundation. Don't wait any longer to implement foundation repairs. Contact us today to get started on your no-cost, no-obligation estimate.
Basement Waterproofing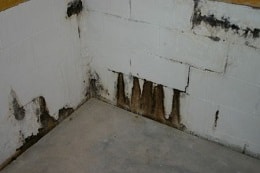 Keeping your home well waterproofed is essential to the well-being of the foundation and other areas. Large storms and foundation issues can increase the chances of a water problem in your home or crawl space. If water enters your home through cracks in the foundation or through porous concrete, it can wreak havoc throughout your entire home. Common signs of a water problem in your home include:
Water pooling or flooding
High humidity
Condensation on ductwork
Mold or mildew growth
Water stains and damage
Wood rot or metal rust
These issues can be fixed using waterproofing solutions such as the installation of exterior drainage systems and surface drainage systems, or crawl space encapsulation. Surface drainage systems are designed to eliminate surface water pooling around the foundation to keep water from seeping through the foundation and leaking through cracks. Exterior drainage reduces the amount of groundwater around your foundation to keep water from seeping through the foundation.
Crawl Space Repair
Crawlspace encapsulation is a waterproofing method that involves the installation of a vapor barrier to seal water out of the crawlspace and prevent moisture problems and mold growth. Foundation Repair Services in Tulsa, OK uses a high density polyethylene vapor barrier to seal your crawl space and protect it from mold, structure rot, moisture damage, and insect entrance. To learn more about crawl space encapsulation in Tulsa, Oklahoma, give us a call today.
Concrete Leveling
If you have a cracked concrete slab on your Tulsa, OK property, Foundation Repair Services can repair it for you. We repair driveways, patios, pool decks, sidewalks, concrete porch steps, garage floors, and more! Our team utilizes a polyurethane foam injection method called polyjacking to raise and level concrete slabs. No matter if your slab has cracked, sunken, or sloped, we can level it out for you. Polyjacking is a quick and affordable method for concrete repair.
For all of your foundation repair, crawl space repair, concrete leveling, and basement waterproofing needs in Tulsa, Oklahoma, contact Foundation Repair Services. We have certified experts in each industry and offer free inspections and quotes. Give us a call or fill out our secure online form to get started!