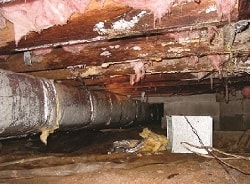 Water is a real problem when it comes to your home's foundation. Existing problems such as foundation cracks or poor drainage systems will allow water to seep into your crawl space. Having exterior and surface drainage systems that are up-to-date and functional will keep water away from your home preventing the problem, but if they are not functioning properly water has a free pass to harm your home's foundation. The water may even just seep through the porous, unprotected surface of your foundation's concrete. This can cause a variety of problems, the worst being a wet crawl space that will cause your foundation to crumble and fail. That, of course, is only if you leave the foundation to fail. If your take care of the problem by contacting us here at Pierman Foundation Repair Services, you will not encounter a problem that serious. There are many different signs that you can detect as a homeowner that will help to determine if your home is experiencing these problems. Some of these signs include:
High humidity
Softened floorboards above crawl space
Wood rot or metal rust
Musty Odors
Water pooling or stains
Wet or damp insulation
Condensation on duct work or pipes
If you happen to notice these signs of water damage around your home, and especially your home's foundation, you are most likely in need of our crawl space repair services here at Pierman Foundation Repair Services. We are an experienced team of professionals who have the tools and knowledge to give you top quality waterproofing and foundation repair.
How To Repair Your Damp Crawl Space in Oklahoma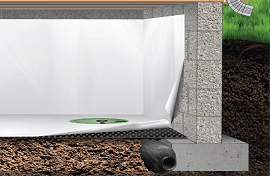 Having a damp and humid crawl space is just as dangerous as having a wet crawl space. All it means is that your home's foundation is experiencing water damage. By staying on top of the problem you will save time and money by taking care of the problem before it becomes a dangerous issue. One way to take care of the problem is by making sure that your exterior and surface drainage systems are functioning properly. The surface drainage system is designed to keep water from pooling in your yard or seeping through foundation cracks or the porous, unprotected concrete. It usually consists of gutters, downspouts, grading around the home, dry wells, and many different underground drainage systems. The exterior drainage system can also help keep water away from your crawl space. The basic parts to this system are a waterproof membrane around the foundation, drainage board, and drainage pipes beneath the footings. All these parts work together to remove and keep away excess groundwater from your home's foundation, reducing the chances that it will seep through the concrete.
We also provide a top quality defense system as a method of crawl space protection. It is called crawl space encapsulation. The process involves covering the floors, walls, and ceiling of your crawl space with a waterproof material, which is usually plastic or foil sheeting. This material will resist the diffusion of water vapor through the porous surface of the concrete, sealing out water completely. This process is the best defense against all water damage that could harm your crawl space.
So, no matter the problem, we here at Pierman Foundation Repair Services are here to help. We are ready to help with all of your damp, humid crawl space repair needs in the Oklahoma area. Give us a call today!