Steel Piers in Oklahoma
Foundation problems can be the result of imperfect construction, pressure of the earth, settling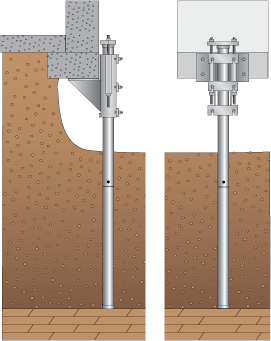 and uneven soils and the home's weight bearing down on it. Changing soil conditions such as dry soil and wet soil causes soil to shrink and swell. These changing soil conditions will cause your home to shift and sink. Pierman Foundation Repair Services uses steel push piers to fix foundation problems and get your home back to its original level.
Steel push piers are the most common foundation repair product used for foundation leveling. These steel push piers are an end-bearing pier that does not rely upon nor require skin friction to produce support. After installation, each pier is field load tested individually using the maximum weight of the structure as the reaction force. Pierman Foundation Repair Services uses steel push piers that are made by Earth Contact Products (ECP), the leading manufacturer of foundation repair and basement waterproofing products made in the industry. The ECP steel pier is standard for all piering methods in the foundation repair industry and the top choice for contractors.
Each pier is driven deep below the home, next to the foundation, to strong supporting soils that can bear the weight of the structure. After reaching the load bearing soil, high pressure hydraulic jacks are placed at multiple locations and connected to a hydraulic manifold. This reduces the load on each pier.
A friction reduction collar is attached to the lead section of the galvanized pier pipe to create an opening in the soil that has a larger diameter than the pier pipe. This reduces the skin friction on the pier pie as it is driven into the soil. The installer is able to load test and verify that the pier has encountered firm bearing stratum or rock that is suitable to support the design load.
Benefits of Steel Piers in Oklahoma
The advantages of installing steel push piers are:
Can be installed year round
Steel push piers reach greater depth
The ECP galvanized steel is resistant to corrosion
Does not require invasive equipment
Lifts the foundation back to level position
Not all steel push piers are made the same. Pierman Foundation Repair Services uses only the best push piers made in the industry. Our service area includes: Checotah, Eufaula, Tahlequah, Tulsa, McAlester, Warner, Haskell, and an 80 mile radius of Muskogee. Don't hesitate to contact the professionals at Pierman Foundation Repair Services for your foundation repair needs using steel push piers. The longer you put off getting your foundation repairs done, the more it will cost you in the long run. At the first sign of foundation failure, contact the professionals at Pierman Foundation Repair Services for foundation settlement in Oklahoma. We will get your foundation back to its original level and it will be structurally sound for years to come.