Exterior waterproofing is true waterproofing - not only does it keep water out of your home, but it prevents water from even collecting around your foundation to begin with! Pierman Foundation Repair Services offers high quality exterior waterproofing systems manufactured by Earth Contact Products (ECP), the leading manufacturer in the industry for waterproofing products.
Signs of Water Damage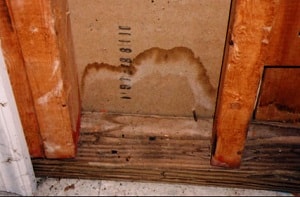 As a resident of Oklahoma, you may have experienced water issues in your home in the past. Here are some common issues that homeowners experience:
Water under footing
Weak spots around windows
Poor Drainage / Clogged gutters
Ground surface that slopes to the house
Water entrance through wall cracks and mortar joints
Water seepage through floor cracks
Since water takes the path of the least resistant, it often will find its way through cracks in your foundation walls. If you have a concrete foundation, moisture can be absorbed into it and evaporate into your basement. If you have high moisture levels in your basement, it can lead to serious issues such as discolored carpet, rusty metal, mold growth, wood rot, wet walls and slab, and settlement. If any of these signs are prevalent in your home, be sure to contact Pierman Foundation Repair Services right away. We offer exterior waterproofing for the residents in Muskogee, OK and the surrounding areas.

Exterior Waterproofing Systems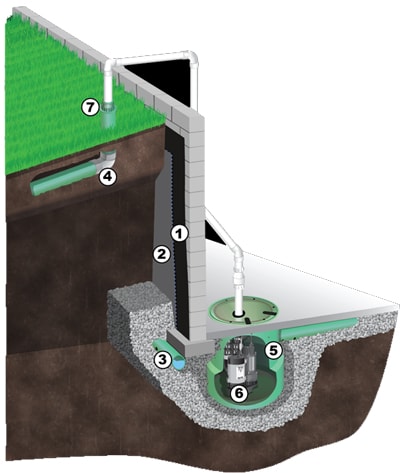 FRS offers quality exterior waterproofing products for homes in Oklahoma. These products include:
Waterproofing membrane
Dimple drainage board
4" perforated drain pipe
4" drain pipe fittings
ECP sump basin
Sump pump discharge freeze guard
The waterproofing membrane is applied by roller or spray and provides a long lasting barrier against water leaks. This waterproofing membrane combines the durability of asphalt with the elasticity of rubber.
The dimple drainage board used by Pierman Foundation Repair Services are prefabricated and consist of a solid, formed, three dimensional core covered with a geo-textile filter fabric bonded to the dimple side of the core.
The ECP drain pipe is the industry leading rigid drainage system for use on interior and exterior foundation drains. It is uniquely engineered to withstand the crushing forces of soils and concrete. The advantages of the ECP drain pipe are:
Building code approved
Superior water volume capacity
Perforated and non-perforated pipe
Crush resistant
Belled connection ends
Pierman Foundation Repair Services has the experience and uses the best products for exterior waterproofing. Keep your investment safe from water damage. Call Pierman Foundation Repair Services today for all your exterior waterproofing needs in Muskogee, Oklahoma.