Foam Injection for Slab Lifting in OK and Northwest AR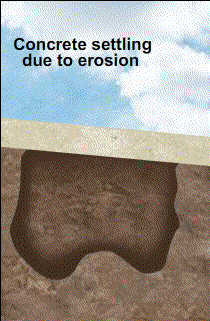 Concrete sinks due to a variety of reasons. Different types of soil have different load-bearing capacities. When the soil cannot handle the weight of the slab, the soil will compact and settle. As the soil compacts underneath the concrete, the slab will sink and crack.

Foundation Repair Services uses polyurethane foam injection for slab lifting. This foam is injected through a small 5/8" hole that is drilled into the concrete. Then the foam expands to over 20 times its liquid volume to completely fill the voids beneath the concrete. Then the hole is sealed and repaired after the injection is completed.
Some of the more common areas that benefit from polyurethane foam injection for concrete repair are:
Patios
Garage floors
Steps
Sidewalks
Driveways
Retaining walls
Pool slabs
The soils underneath your concrete can get washed away as water moves underneath it. The professionals at Foundation Repair Services use a high-density polyurethane foam that is the most efficient, cost effective and environmentally friendly way to lift existing concrete slabs.
Sinking Concrete Solutions in Oklahoma and Arkansas Including Muskogee, OK
Soils can naturally compact over time, creating a void beneath the soil. Once these voids are created, the concrete will sink and settle into the voids. With polyurethane foam injection, the experts at Foundation Repair Services inject the foam into the soil, filling and expanding into all of the voids. The concrete is then lifted and stabilized. Once the polyurethane foam is injected, it integrates with the soil and expands into a lightweight, stable, durable material, which increases the soil load bearing capacities. There are many advantages to using polyurethane foam over other concrete leveling methods. Some of these advantages are:
Less disruptive
More economical
Higher durability
Superior accuracy
Moisture resistant
Lighter weight than other methods
Moisture seal barrier
Compaction ability
For all of these reasons along with the long lifespan of polyurethane foam, this is the best method to use for concrete lifting and leveling. Other methods break down over time and you will need concrete repair again in the near future.

This method is now the preferred concrete repair solution for DOT's, contractors, and residential concrete repair. Contact the professionals at Foundation Repair Services for all of your slab lifting and leveling needs. No job is too big or too small. We serve both residential and commercial. Our service area includes Checotah, Eufaula, Tahlequah, Tulsa, McAlester, Warner, Haskell, all in Oklahoma and an 80 mile radius of Muskogee. Don't hesitate, call today!