Crawlspace moisture is one of the biggest issues for many homes in Oklahoma. The crawlspace is an area of the home that is below ground level. Because of this, it is susceptible to moisture problems, such as water leakage through cracks in the foundation, or groundwater seepage through the porous concrete. If you have a wet or damp crawlspace, there is a great chance that mold and mildew may start to grow in your home. This is a dangerous issue, and should be taken care of immediately. The waterproofing experts at Pierman Foundation Repair Services can take care of the mold and moisture problems in your crawlspace.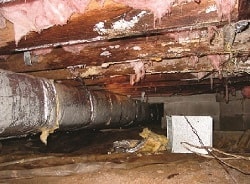 When trying to prevent the growth of mold or mildew, there are a few different things to watch for in your crawlspace. If you notice any of the following symptoms, it may be a sign that your crawlspace has a moisture problem, which can lead to mold and mildew growth:
Damp walls
High humidity
Musty odors
Wet or damp insulation
Wood rot or metal rust
Water stains
Condensation on ductwork
It is a good idea to regularly examine your crawlspace to look for the signs of a moisture problem. Once a problem is discovered, a professional should be contacted immediately to take a closer look and come up with a fitting solution.
Mold growth is one of the most annoying problems that can result from a wet or damp crawlspace. If mold or mildew grows in your crawlspace, it could ruin any personal possessions that you may store there. Mold can also eat away at any wooden support beams or posts in your home, causing deterioration. This compromises the structural integrity of the home and can cause the floor above the crawlspace to become sloped or uneven. Mold growth can also lower the quality of air in the entire home. Many homeowners do not realize that much of the air that they breathe throughout the home comes from the crawlspace. This means that mold-infected air in the crawlspace can cause health problems for you and your family even if you do not frequent the crawlspace.
Crawlspace Mold Solutions in Oklahoma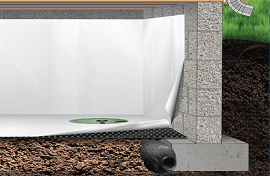 To prevent the growth of mold and mildew in your crawlspace, it is important to make sure that your home is well protected from water problems. This can be done by ensuring that the exterior and surface drainage systems around your home function properly. These systems are designed to keep excess surface water and groundwater away from your foundation to keep water out of the crawlspace.
The most effective way to protect your crawlspace form moisture is with a service called crawlspace encapsulation. This method involves the installation of a waterproofing material such as plastic or foil sheeting. This material resists the diffusion of water vapor to prevent seepage through the porous concrete surface. This seals water out of the crawlspace, keeping the area dry and mold-free.
If you live in Oklahoma and are in need of a solution for the mold or mildew in your crawlspace, contact Pierman Foundation Repair Services today.