Humid Basement and Crawl Space Repair in Oklahoma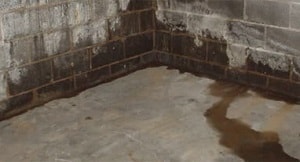 Do you have a humid basement or crawl space? If you notice humid air, damp walls, and condensation on pipes and ductwork, you may be dealing with a moisture problem in your basement. These problems are caused by the porous concrete walls in your basement letting moisture in from the outside. While it may not seem too concerning, high humidity and moisture in your basement could mean that there is a problem that is compromising the structural integrity of your home. Basement or crawl space humidity and moisture could also lead to mold growth, which lowers the quality of the air in the rest of your house as well.
The reason that your basement or crawl space has high humidity is probably due to the soil around your home being soaked with excess water. This water then causes an increase in the hydrostatic pressure within the soil. This pressure can cause the basement or crawl space walls to become damaged or cracked, letting water seep into the home. This can cause moisture problems such as dampness and high humidity.
The humid air in your basement or crawl space may eventually spread to other areas of your home, leaving you with damp air and moisture issues all throughout the home. Use a dehumidifier to keep the problem from leading to mold growth and other serious problems. Then focus on fixing the underlying issue with waterproofing solutions.
Humid Basement and Crawl Space Repair in Oklahoma
When trying to keep moisture and humidity out of your home, there are several steps that you should complete:
Surface Drainage: Fixing the gutters and downspouts will keep water from dumping out right next to your foundation. Proper grading around the home can also help. If the grading has become flat or sloped toward the home, water will not drain away, but will pool in the yard. Other components of the surface drainage system might include drywells and catch basins.
Exterior Waterproofing: To keep any groundwater from seeping into your basement, you can have a waterproof membrane installed. This membrane is covered with a drainage board to help the water travel downward to a pipe system that carries it away. These and other exterior drainage solutions may help with humidity in your basement.
Crawl Space Encapsulation: For crawl space moisture, we use vapor barriers to keep moisture out of your home. These waterproof barriers are made of a plastic or foil material that prevents water from seeping through the crawl space walls or leaking through cracks in the concrete. This service is known as crawl space encapsulation.
After you invest in these solutions, your home should be safe from any crawl space or basement humidity. Contact the expert team at Pierman Foundation Repair Services to learn more about our humid basement and crawl space repair options in Oklahoma.