Crawl Space Repair in the Tulsa, OK Area
Most homeowners are not aware that the structural integrity and overall health of the crawl space affect the overall health and safety of the family. Issues in the crawl space can lead to a variety of larger problems that are not only a pain to have fixed, but are also hazardous for you and your family. That is why it is important to invest in crawl space repair services from Pierman Foundation Repair Services of Oklahoma at the first signs of a problem in your Tulsa, OK crawl space.
In order to protect your crawl space, you need to know the basic signs of crawl space failure. Some common indicators that there is a problem with your crawl space include:
Wall or Floor Cracks
Water Stains
Condensation on Pipes
Foul and Musty Odors
Wet or Damp Insulation
These indicate that there is a problem with your crawl space. If there is excessive moisture in your crawl space, it may lead to a whole host of other, more serious issues. Crawl space moisture can start to eat away at the structural support in your crawl space, causing wood rot and metal rust, and leading to leaning or bent support beams and posts in the crawl space area. This will most likely lead to an unstable foundation, which can be a danger to you and your family if not repaired as soon as possible.
Another problem that comes from crawl space moisture is the growth of mold and mildew. Eventually, any air in the crawl space will start to circulate through the rest of the home. This means that mold-infected air in the crawl space could mix with the air that you and your family breathe every day.
Crawl Space Repair for Tulsa, Oklahoma
Because crawl space moisture can become such a serious issue, it is important to keep it under control. Once you have ensured that any foundation problems that may be causing crawl space moisture problems have been fixed with proper foundation repair techniques, you can move on to moisture-proofing methods such as crawl space encapsulation and other waterproofing systems.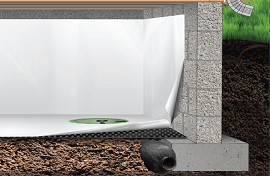 Crawl space encapsulation involves the installation of a vapor barrier inside the crawl space. This barrier is a thin layer of polyurethane membrane that is sealed along the interior of the crawl space to keep water vapor from entering the area. The edges of the vapor barrier are attached to the crawl space walls using a seam tape that bonds to the surface and helps to create a continuous barrier for water vapor. Encapsulated crawl spaces provide controlled, clean, and safe areas to store personal belongings. They also help to improve the energy efficiency of your entire home by reducing humidity. The crawl spaces that we use from ECP (Earth Contact Products) are highly durable and effective and offer long-term protection for your crawl space.
Other services that may help to protect your crawl space from moisture problems include various surface drainage and interior and exterior waterproofing techniques to keep water out of your home and away from your foundation. These methods can reduce the water that pools in your yard and seeps through your foundation to eliminate crawl space moisture.
For more information on crawl space repair in Tulsa, Oklahoma, contact the team at Pierman Foundation Repair Services today.