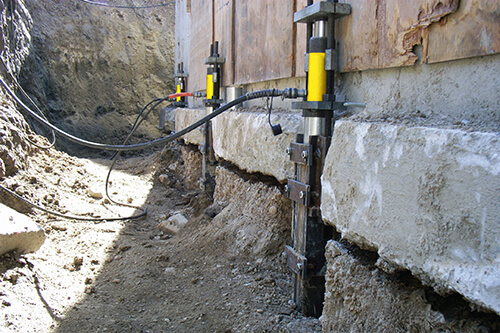 You may not be thinking a lot about your foundation in the dead of winter or maybe you're worried about that crack that seems to be getting bigger or perhaps you're looking to buy a house that has a foundation issue. When is the best time of year to get your foundation repaired?
Is it Winter?
The winter may seem like an odd time to have foundation repair done as the ground is a lot colder than other parts of the year. However, the cold weather makes the foundation a little more stable, allowing one to monitor foundation damage a little easier.
So, the soil is more stable, the problem probably isn't getting worse, and foundation repair companies aren't as busy. Sounds like a good time, right? Well, keep in mind that the winter has a lot of holidays you have to work around and the weather can get very cold without much notice, pushing back the completion of the project.
So Spring is the Answer?
So, the winter months aren't the best time, springtime must be the right season for foundation repair, right? You may notice more cracks as new ones develop and old ones begin to leak. Surely, spring is the right time for foundation repair.
It's pretty easy to see the foundation problems during this time and people are usually ready for a time of renewal and repair during the spring months. So Spring is the answer, you say.
The Best Time for Foundation Repair is…
OK, so we've given reasons why the winter is the best time and also why springtime is the best, so what do the experts at Pierman Foundation Repair Services think? The best time for foundation repair is…RIGHT NOW! If your home or business is showing signs of foundation damage, don't waste another day waiting to have it repaired.
If you wait for the "perfect time" for foundation repair, you are probably going to have a bad time of it. The longer you wait, the more time and money it is going to take to make the repairs, as the damage is only going to get worse. Keep in mind, also, that what looks like a small problem to you, may actually just be the tip of a major issue behind the scenes. Only an expert can determine the extent of the damage and what it will take to repair it.
There are certain things you should look for that may be indicators of foundation damage. Some signs include:
Contact the pros at Pierman Foundation Repair Services in Oklahoma. We can take a look at your property and provide you with a free estimate. We don't take shortcuts and our reputation shows that we provide an expert level of workmanship and customer service. Give us a call today, no matter the time of year, for all of your foundation repair needs!