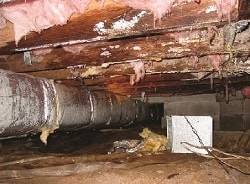 Basement foundations seem to get all the press when it comes to home repairs, with crawl spaces being the forgotten stepchild. However, crawl space foundations are just as important as basement ones. In addition, since they don't get noticed, it is really important to keep your crawl space strong and safe.
Why Keep the Crawl Space Maintained
You may not think of your crawl space at all, or if you do have one that is usable, you probably haven't looked down there since you moved in. Even so, if your crawl space is neglected, you can be in for a bad time, with expensive and time-consuming repairs. It is better to keep ahead on the maintenance of your crawl space to avoid a major problem.
By keeping your crawl space in good shape, you can lower your energy costs and make your home more comfortable. An unprotected crawl space allows cold air to enter your home, giving you cold floors and higher heating bills.
If your crawl space isn't protected, it can become very wet, especially during the spring and summer months. This moisture can promote mold and mildew growth, along with pest infestations. The musty smell can invade your living space, not only making it unpleasant, but you'll probably be inhaling mold spores, which can really endanger your health.
If water and air can enter your crawl space, it is very likely that rodents and other varmints can enter, too. And if the area is uncomfortable, they may just decide to enter your living space.
What Other Problems Can Occur?
Still not convinced that your crawl space needs to be protected? You may want to think about what your house sits on. The foundation of your home is what holds your house up. If it is weakened through cracks, moisture, or settling, your home may be in danger of being damaged or even failing. By keeping your crawl space strong, you can prevent cracks from appearing in walls, floors from becoming uneven, and doors and windows from sticking.
The sooner you discover and repair foundation problems in your crawl space, the less time and money it will take to repair the problems. Pierman Foundation Repair Services offers waterproofing and vapor barriers, along with crack repair. We will make sure your crawl space is strong, dry, and stable and, in turn, your home will also be safe and comfortable for everyone.
Contact us today to learn more about all of our crawl space repair services in Oklahoma.