How El Nino Could be Affecting Your Foundation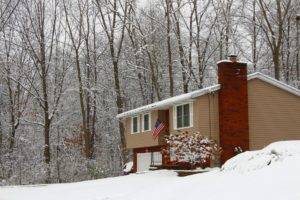 El Nino is causing Oklahoma to have above normal precipitation throughout the winter months. The worst of it may last even into March. During El Nino, the Pacific Jet Stream intensifies across the southern states. This brings in all of this wet weather; from rainstorms to snow. With these overly wet months, the foundation of your home could be affected. When the soil around the foundation get overly saturated, the soil will expand beneath the foundation, causing the foundation above it to shift and move. After winter, when the soil gets dry in the summer, the soil will shrink and create voids beneath the foundation, causing the foundation to sink into these voids.
It is important to know what some of the signs are of foundation settlement or failure. Some of these signs are:
Floor cracks
Wall cracks
Ceiling cracks
Doors and windows that stick
Leaning chimney
Garage column cracks
Stair and stoop problems
Bowing or leaning walls
If you notice any of these sign of foundation problems, contact the experts at Foundation Repair Services for a free inspection. If we find that you are in need of foundation repair, we will offer you the best foundation repair solution to get your foundation back to its original level and structurally strong again.
Foundation Repair Solutions in Oklahoma
Foundation Repair Services uses underpinning products such as helical piers and steel push piers for foundation repair. These piers are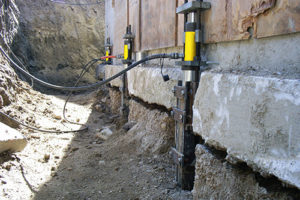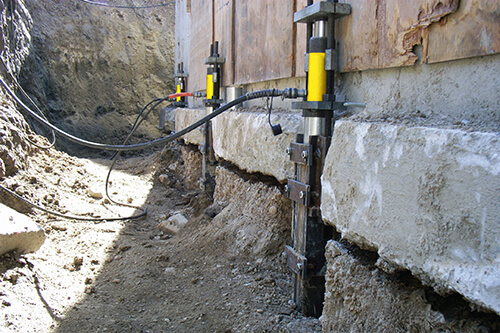 driven deep into the ground until they reach a solid soil layer. Then each pier is individually load tested. After load testing, the entire weight of the structure is lifted onto the piers with hydraulic jacks. The foundation will return to its original level and will be structurally sound again for many years to come.
If you have bowing or leaning walls, we use helical tiebacks and plate anchors to pull the wall back to its original level. These tiebacks and plate anchors will also strengthen the wall so it won't bow or lean in the future.
All of the products we use for foundation repair are manufactured by Earth Contact Products (ECP), the leader in the manufacturing of foundation repair and basement waterproofing products in the industry today. With our experience and with ECP products, you can be assured that your foundation repair will be done right and last a lifetime.
With El Nino causing so much wet weather in Oklahoma this winter, it is important to be aware that all of this ground saturation can wreak havoc on your foundation. Let the experts at Foundation Repair Services inspect your foundation and offer you the repair solutions you need.