Leaky Basements In Oklahoma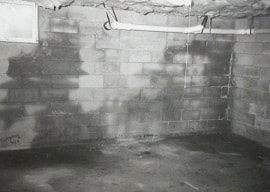 Have you noticed water in your basement or crawlspace? Unfortunately, leaking and flooding is all too common in Oklahoma homes, especially during this time of year. With all the heavy precipitation and snowfall that comes, it is likely that excess moisture is causing pressure against your foundation walls and seeping into your basement. Hydraulic pressure caused by excess water can create cracks and crevices in your foundation walls, which allow water to get in. Sometimes, the water pressure can be strong enough to soak right through the concrete walls. It seems almost inevitable that water will leak into your home, so what can you do to prevent it?
How To Avoid Water Leakage In Your Home
There are a few things that you as a homeowner can do to protect your home from water entrance. One of the most important things that you can do is regularly clean out your gutters. With all of the winter storms that pass through Oklahoma, your gutters will likely be filled with branches, sticks, leaves, dirt, and other debris. If your gutters are clogged, water will pool up on your roof and spill onto your foundation. The goal is to have your gutters clear so that water can efficiently be directed to the downspouts and away from your home. That being said, your downspouts are another important aspect when it comes to protecting your home from flooding. If they are too short, they too can spill water onto your foundation and increase the hydraulic pressure. It is important that your downspouts extend at least 5 feet away from your foundation so that water is sent well away from your home. The landscaping on your property has a lot to do with how much water enters your home. If you are located on a hill that goes downwards towards your home, gravity will pull water straight onto your foundation. If your landscaping is on a slope toward your foundation, you can install window wells to keep water from reaching the windows of your basement. Window wells are a shield against water and can prevent many leakage issues.
Solutions for Water Leakage by Pierman Foundation Repair Services

Pierman Foundation Repair Services in Muskogee, OK offers several professional services to solve water problems in your Oklahoma home. We have a wide variety of waterproofing systems that we can install in your home. It is important to protect your home with both interior and exterior waterproofing systems. These systems work together to efficiently protect your home from water entrance, and drain out existing water. If you are experiencing a wet or damp crawlspace, it may be slowly deteriorating. We can install crawlspace jacks to help your crawlspace regain it's strength and stability, protecting your home from structural damage. Along with this, we can install crawlspace encapsulation which protects your crawlspace from the water. We use puncture resistant vapor barriers that are the best on the market.
If water is entering your home through cracks in your foundation, simply mending those cracks won't fix the root problem.
If your foundation is failing, cracks will only continue to form.
Here at Pierman Foundation Repair Services, we can install steel piers to repair your foundation and give it the long-lasting stability that it needs. Steel pier installation will fix existing foundation problems that you have and prevent any other issues from occurring in the future. To learn more about the services we offer in Muskogee, OK and surrounding areas, be sure to call FPierman oundation Repair Services today. Let us help you to keep your home safe and dry this winter and throughout the year!