OK Foundation Repair Solutions from FRS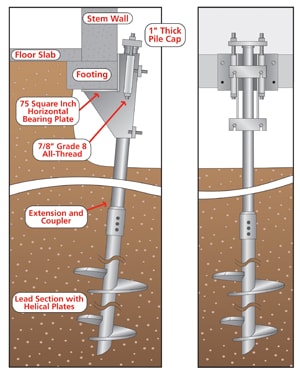 Foundation repair is an important service for homeowners who are dealing with sinking and settling foundations. Because the foundation is the part of the home that provides support for everything else, it is vital that it stays healthy and free of issues. If you notice cracks or movement in your foundation, call the expert team at Pierman Foundation Repair Services OK right away. We provide the solutions that you need to keep foundation failure at bay.
Normally, foundation problems are caused by some sort of movement in the soil that surrounds the foundation. This can happen when there is too much water in the soil (erosion or hydrostatic pressure), when there is not enough water in the soil (soil shrinkage), or when the soil under the concrete was not prepared adequately (soil compaction). Whatever is causing your foundation problem, be sure to have it taken care of right away.
Pierman Foundation Repair Services in Muskogee, Oklahoma is able to give you the foundation repair products and solutions that you need. We offer top quality products from the leading supplier, ECP (Earth Contact Products). We put your safety and satisfaction first – that is why we use the best products and hire only hardworking professionals.
Pierman Foundation Repair Services OK for Your Home
In order to fix all of the foundation problems that Oklahoma homeowners deal with, we have a wide selection of different foundation repair options. The services that we offer for your OK foundation repair needs include:
These are just a few of the services that we offer here at Pierman Foundation Repair Services. We also provide waterproofing, crawlspace repair, and new construction piers. For more information on the professional foundation repair services OK that we can provide for your home, contact us today.