If you have a concrete slab in your Oklahoma home that has cracked or settled, you're not alone. It is extremely common for concrete slabs such as patios, driveways, pool decks, and garage floors to settle over time. This usually occurs when the soil underneath your home expands and contracts depending on how wet or dry it is. Unfortunately, the clay soil in Oklahoma is prone to becoming weak and unable to hold the weight of the concrete above it. As the soil compacts under the concrete, the slab will sink and crack.
Fortunately, Pierman Foundation Repair Services of Oklahoma has a quick and affordable solution for home and business owners who have experienced cracked slabs. We use a method called polyjacking to raise and stabilize sinking slabs. Polyjacking consists of injecting a polyurethane foam to lift concrete that has settled. The polyurethane foam is injected into the voids, and as it expands, the void is filled and the concrete is lifted back to its original level. This method is the most cost-effective, efficient, and environmentally friendly way to lift concrete slabs.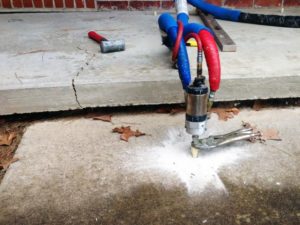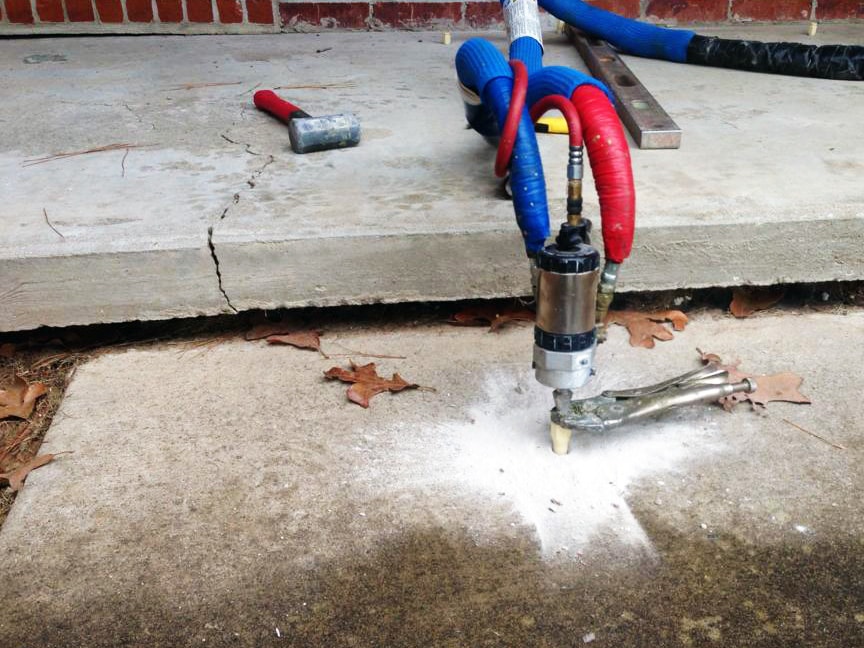 Concrete Slab Repair Solutions in Muskogee, Oklahoma
The method of polyjacking is done by drilling a small 5/8″ hole into the affected concrete then injecting the polyurethane foam into the hole. This foam will expand to over 40 times its liquid volume to completely fill the voids beneath the concrete. Because polyurethane foam has a fast curing time, the concrete can be used immediately after the repair is done.
Other advantages of using polyjacking for concrete leveling are:
Economical

Less disruptive than replacing the concrete
High durability
Moisture resistant
Superior accuracy
Compaction ability
Polyjacking is now the preferred concrete repair solution for DOT contractors and residential concrete repair. Polyurethane foam has a long lifespan. Other methods break down over time and the concrete will need to be repaired again in the near future.
For any of your concrete repair needs in Oklahoma, contact the professionals at Pierman Foundation Repair Services. We have established an outstanding reputation and we intend to keep it that way.