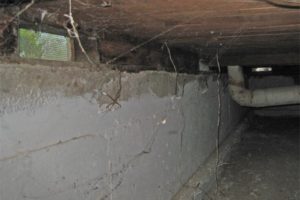 For many homeowners, the crawl space is a bit of a mystery. You might store your Christmas decorations down there, and you might peek down if there's a funny noise coming from the crawl space. But many homeowners are not very familiar with their crawl spaces. However, the crawl space is integral to the structural stability of your home. If it is damaged by moisture or foundation failure, it can cause serious issues, like mold growth, sagging floors, settlement, and more.
That's why it is vital that you get your crawl space repaired as soon as you notice any issues. If you are in need of crawl space repair, you might be wondering what your options are and how exactly contractors perform the work. See below to get an idea of how the pros might handle your crawl space.
Crawl Space Encapsulation and How it Works
The most common and one of the most effective ways to repair crawl spaces that have been affected by moisture is with crawl space encapsulation. With this method, a vapor barrier made of thin plastic or foil is used to line the crawl space completely, sealing out moisture and keeping the crawl space dry. These barriers are usually 10-16 mil thick and are essentially taped and adhered to the inside of a cleaned out crawl space.
The barrier must cover the entire interior surface of the crawl space, which is why seam tape is used to ensure there are no cracks left uncovered. This whole process prevents moisture from seeping inside, keeping mold and rot from becoming issues in damp crawl spaces.
Bonus Option: Crawl Space Lifting and When it is Done
If you have bowing or sinking support structures in your crawl space, you may need to have it lifted with the installation of piers. This works much like pier installation for foundation lifting. Crawl space piers are installed under the home to lift sagging floors and offer support to the crawl space foundation. These piers prevent settlement and the issues that stem from settlement, like interior cracks and sticking doors and windows.
Foundation Repair Services of Oklahoma specializes in crawl space repair to keep your home well-supported. Contact us today to see if we can help you out.