Flooded Basement Repair and Problems in Muskogee, OK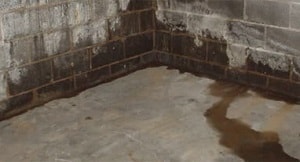 Just this July, much of the South Muskogee, OK area experienced terrible basement flooding. Several of the neighborhoods in this area had to deal with rising water levels due to the overnight rains on July 21. With all of this water on the road, it is not uncommon to see water flowing into your basement. And this incident in July is not the only time that homeowners in Muskogee have had to deal with basement flooding. It is actually a frequent problem for many homeowners in the area.
If water starts seeping into your home and basement, it can cause several serious issues. First, water can stain your walls and cause damage to personal possessions, furniture, or carpet in the basement. Water pooling and flooding in your home can also lead to rust and wood rot in your home. These are major issues, as they can affect the structural integrity of the entire home. Another huge problem that can result from flooding is mold and mildew growth. When mold forms in your basement, it may infect the air in your basement, which then travels throughout the home. This means that mold in your basement may be in the air that you and your family breathe every day!
Do not let these issues become a problem in your Muskogee, Oklahoma home. Take measures to prevent basement flooding in severe conditions.
Prepare for Basement Flooding in Muskogee, Oklahoma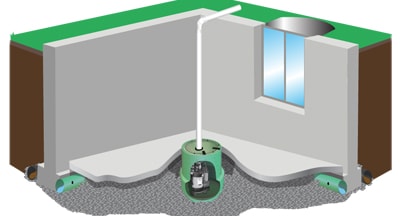 If you have not already done so, make sure to start protecting your Muskogee home from the dangers of basement flooding. Although certain severe conditions cannot always be avoided, it is possible to keep down the amount of water coming in your home. Some of the waterproofing solutions that we offer to reduce basement flooding are:
Interior Drainage
Exterior Drainage
Surface Drainage
Sump Pump Systems
Interior drainage and sump pump systems work together to collect water that enters your basement and flush it out to prevent damage and basement water issues from occurring. Exterior drainage utilizes a drain pipe system and a drainage board or waterproof membrane to help reduce the amount of water that can gather around your foundation on the surface and in the ground. Surface drainage is designed to keep rainwater from pooling in your yard and entering the basement. We even offer crawlspace encapsulation to seal water out of your crawlspace and basement.
You can also do some waterproofing yourself to keep flooded basement repair needs to a minimum. Make sure that your gutters are not clogged and are properly sloped, and that your downspout extends far enough to get water away from the foundation. You can also check on the grading around your home. Make sure to test your sump pump every once in a while too, to make sure it will kick on when you need it.
If you have any more questions about flooded basement repair in the Muskogee, OK area, contact Foundation Repair Services right away.