When it comes to concrete repair in your Muskogee, OK home, you probably put it off due to what the cost will be. The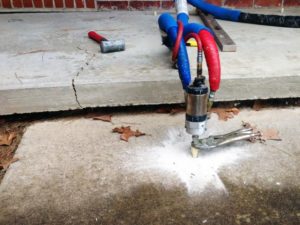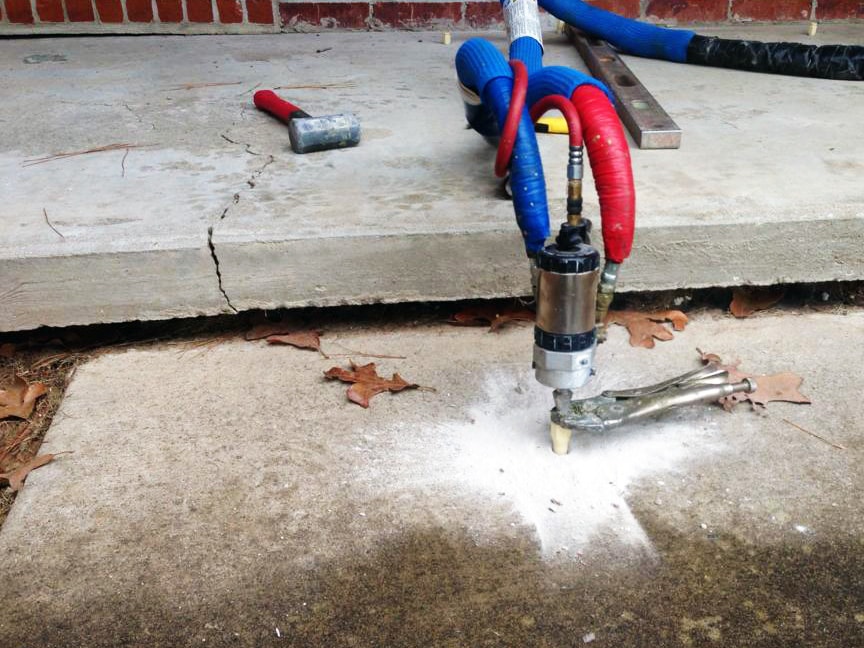 professionals at Pierman Foundation Repair Services uses a method for concrete lifting and leveling called polyjacking. This much more cost effective than replacing concrete. The cost of concrete leveling depends on how far it needs to be raised and the accessibility of the spot that needs to be repaired. The experts at Pierman Foundation Repair Services will come and inspect your concrete and give you a free estimate.
Concrete sinks and settles due to a variety of reasons. Some of these reasons are:
Soil Shrinkage – The soil will shrink beneath your concrete during hot and dry weather, causing your concrete to settle into the voids
Plumbing Leaks – Home with plumbing lines underneath the concrete may experience leaks causing the soil to wash away beneath your concrete
Maturing Trees and Vegetation – If trees and shrubs are too close to the concrete, their root system can drink up all of the moisture beneath the concrete, creating voids
Unstable Moisture Content – When the moisture beneath your concrete fluctuates, it causes movement of the soil and the concrete
Polyjacking is the process of injecting polyurethane foam beneath the concrete where it will expand and fill the voids. The first step in this process is to drill small holes in the concrete then injecting the polyurethane foam. This foam expands into a lightweight, durable material that will lift and support the concrete for many years. This process is simple and less invasive than other means of concrete leveling. The concrete can be used immediately after the repair is completed.
The Benefits of Polyjacking in Muskogee, OK
Not only is this method more cost effective than other methods of concrete leveling, but it has many more benefits. Some of these are:
Polyurethane foam weights less than other materials used for concrete leveling
It is water resistant
Eco-friendly
Repair is done in a short amount of time
Saves time
When you weigh the benefits and cost of polyjacking compared to other methods of concrete repair, you know you are getting a better method along with cost savings. The most common areas for the use of polyjacking are:
Pool slabs
Steps
Garage floors
Patios
Driveways
Sidewalks
Concrete slab home foundation
Retaining walls
If you have any of these areas that are in need of concrete repair, let the professionals at Pierman Foundation Repair Services come and take a look and give you an estimate. We have the experience and use the best products for concrete leveling. The sooner the repair is done, the least amount of damage that will occur in the future.
We serve an 80-mile radius from Muskogee, OK. Some of these cities include Tulsa, Broken Arrow, Tahlequah, Wagoner, and many more cities in Oklahoma. When it is time for concrete repair and leveling, contact the professionals at Pierman Foundation Repair Services.